SeaSmart GPRSTM Cellular Vessel Gateway
Download WiFi Specifications (PDF)
The SeaSmart GPRS™ gateway translates vessel NMEA 2000 sensor data for transmission over most cellular networks. Remote access to vessel sensor data is now possible with any web browser enabled device including tablets, iPads, SmartPhones, and Andriod OS. The gateway is designed for use with a variety of cloud services like HelmSmart.net, Telemetry.com, Boatlogger.com, and AT&T's M2X data store. A removable SIM card socket allows SeaSmart GPRS™ to be provisiond for most cellular providers.
SeaSmart GPRS™ interfaces to NMEA 2000 bus via a standard Micro connector and reformats data for transmission over cellular networks to target data servers. An internal removable SD memory card can store data when no cellular access is available and then forward when service is restored. Cloud data stores such as HelmSmart.net, Amazon S3, and AT&T M2X are directly supported. Many other data serverices are also available using standard HTTP POST protocals.
GPRS is a cellular protocol most commonly used for web browsing, email, and SMS messaging. Its advantage is a widely available coverage area, low cost, and long range access. Off-shore coverage over 10 miles is common and continious inland access usually available. GPRS can operate on lower bandwidth towers making it more reliable then current 4G and LTE services.
When used with Chetco Digital's HelmSmart.net service, vessel data is uploaded and stored on cloud servers for real-time access via any web browser. Several site tools are available for vessel tracking, sensor alerts, email and SMS alarms, graphing, reporting, and real-time instrumentation. In addition, data can be instantly forwarded to other third-party web services like Boatlogger.com and Telemetry.com where users can customize their data analysis and vizulation requirements.
An advantage of SeaSmart GPRS™ open network access is the ability to utalize AT&T's new M2X service which offers a reduced network access and storage cost of only $5/mth for up 10 MB of data. With most common sensor payload requirements under 20 bytes per sample, that's 500,000 sensor samples per month. If a typical vessel requires less then 50 sensors per upload, up 10,000 updates per month or over 15 per hour continiously are possible within the plan.
Higher data storage rates are also supported using standard SIM plans of $10-$20/mth for up to 10 GB of storage and access. SeaSmart GPRS™ will also work with most SIM cards from other cellular data modems that are already provisioned for shared data plans common with smart phones and mobile internet devices. Since SeaSmart GPRS™ is a NMEA 2000 to cellular gateway, data plan requirements are significantly reduced.
SeaSmart GPRS™ will not support tethering of other devices for internet service. It will only transfer NMEA 2000 or NMEA 0183 data to target data stores. It operates as a dedicated NMEA 2000 to Cloud data store device and offers no other network access or services. This results in lower cost of operation in terms of data access charges. It is up to other web services to pull data from the store and interperate/visulize as required. Any visulization of live or stored data will require a separate web enabled device and data service. Most cellular data plans allow pooling multiple devices under the same account .
SeaSmart GPRS™ includes a separate NMEA 0183 port for multiplexing other data sources such as GPS, heading, fuel flow sensor or even a SeaSmart Analog Gateway. When used with a NMEA 0183 GPS, position, time, speed, and course can be converted to equilivent NMEA 2000 PGNs for cloud storage. This allows SeaSmart GPRS™ to be used as a stand alone tracker if no GPS data is available on the NMEA 2000 bus. Other NMEA 0183 data will simply be multiplexed with the NMEA 2000 upload and becomes the responsibility of the cloud visualization service to interpet it as required.
Since there is no direct user interface for SeaSmart GPRS™, configuration is done via XML scripts stored on the SD Memory card. Paramters such as target cloud data store URL, upload rates, data selection/filtering, baud rates, timestamp sources, and other are contained in the script and copied to the SD card. SeaSmart GPRS™ will then read these parameters on each startup to configure the service. A HelmSmart.net Web page is available to automatically create the XML file to download to the SD card.
SeaSmart GPRS™ uses a detachable antenna to allow optimal placement, higher gain, or even cellular signal booster if required.
SeaSmart GPRS™ is available in two versions. The STANDARD version supports NMEA 2000 and NMEA 0183 inputs only. The PRO version includes another 12 analog inputs – 1 Pulse, 2 temperatures, 2 voltages, and 7 switch/indicator which can be added to the NMEA 2000 upload.
To reduce cellular network data charges, SeaSmart GPRS™ filters NMEA 2000 bus data based on user selected PGNs and sends only the last value within the sample period. For example, if GPS position is selected at one minute intervals, one PGN will be transmitted even if 100's are received within the interval. No averaging or filtering is performed on the PGN, only the last one received is used. PGN selection is specified in the SD XML file on start-up.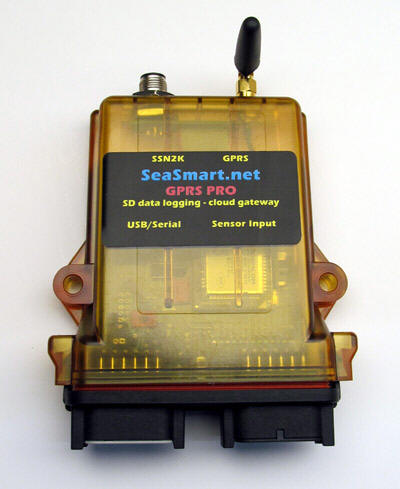 Chetco Digital SeaSmart.Net™ technology makes cloud base instrumentation, data access and data storage as easy as using a smart phone and browser. SeaSmart GPRS is bundled with HelmSmart web service instant setup. Custom development tools are also included.
Technical Specifications
Operating Voltage:
9 to 14.5 Volts DC Voltage
Power Consumption:
<700mA Average Current Drain
Load Equivalence Number:
12 NMEA 2000® Spec. (1LEN = 50 mA)
Reverse Battery Protection:
Yes Indefinitely
Load Dump Protection:
Yes Energy Rated per SAE J1113
Size:
4" x 2" x 2" Including Flanges for Mounting Weigh 8 oz. (340 g)
NMEA 2000® Connector:
DeviceNet Micro-C via 24" cable drop (4 pin Conxall)
NMEA 2000® Isolation:
Opto-Isolated No Electrical Connection Across Bridge
Interface Standard:
RS232 Serial/USB 1.1
USB Connector:
12-pin Deutsch to USB Type A -5' cable drop
USB Auxiliary Power:
+5 Volts < 200 mA
RS232 Connector:
3-wire flying lead with 5' cable drop
Power Connector:
12-pin Deutsch 3' pigtail (12V/GND)
WFi Interface:
802.11 b/g 11/57 Mb/s
WiFi Antenna:
Dipole ¼ Wave
Operating Temperature:
-25°C to 55°C
Storage Temperature:
-40°C to 70°C
Relative Humidity:
93%RH @40° per IEC60945-8.2
Cloud base Vessel Monitoring
HelmSmart.net is a web site offering Cloud-based data access for SeaSmart NMEA 2000 network adapters. HelmSmart.net provides a collection of dynamic web pages that link with PushSmart Cloud Database and messaging services to present virtual dashboards. Vessel data can be viewed in a variety of formats including Map overlays, charts, spreadsheets, instrumentation, and alarm/status messages. High speed cloud servers provide 24/7 search engine access and global distribution for stored data as well as real-time messaging and live monitoring anywhere with internet access.