SeaSmart Vessel Analog Gateway
This innovative compact unit directly connects up to 8 analog senders to marine networks including NMEA 0183, NMEA 2000, Ethernet, or Wi-Fi (802.11 b/g). Designed to add digital display support for single or dual engine configurations, the SeaSmart Analog Gateway converts sensor data into compatible network protocol for display on modern Chart plotters, PC/iPad devices, or any internet Web browser device.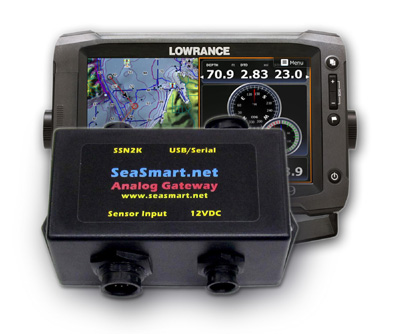 A 9-pin flying lead sensor harness attaches to each vessel sensor and water-resist twist-lock connector insures reliable performance in harsh environments. Each of the 8 analog inputs can be configured for resistive or voltage sensor inputs to cover any instrumentation requirement. Two of the inputs can be enabled for pulse style for use with most tachometer signals including inductive, Hall-Effect, generator, and alternator.
The versatile Analog interface design allows the unit to be user configurable to support any analog sender via its exclusive embedded calibration tables. Unique only to SeaSmart.net is a proprietary field installable sensor module which contains selected calibrations preprogrammed in non-volatile memory. This allows the installer to select from a growing list of preconfigured vessel engine packages and simply plug in the desired module to complete unit setup without needing to connect a PC. As a result, the SeaSmart Analog Gateway will provide basic instrumentation for dual engines (Tachometer, Engine Temp, Oil Pressure, and Alternator Voltage) or more extensive Single Engine package (Fuel level, Transmission Pressure, Battery Bank status, and more.) Sensor inputs can come from any resistive sender, voltage sender or even operate in parallel with most existing analog gauges thereby allowing for a simple upgrade path on older analog engines to the new digital marine networks.
Based on the SeaSmart.net line of marine adapters, the SeaSmart Analog Gateway can be purchased with options to support popular network interfaces including NMEA 0183, NMEA 2000, Ethernet, or Wi-Fi. NMEA 0183 provides bot serial RS232 and USB output to compatible equipment or PC platforms. The NMEA 2000 option allows for direct instrument display on compatible Marine Chart plotters and automatically populates preconfigured gauges with data from older analog engine packages. The Ethernet and Wi-Fi options provide interface to on-board PC or iPad devices running a growing list of SeaSmart.net compatible applications including the popular iNavX and vDash. The Ethernet/WiFi options also allow remote access to vessel data over the internet using a built-in Web Server thus enabling a single low-cost device solution for remote monitoring anywhere in the world.
Download Analog Gateway Specifications (PDF)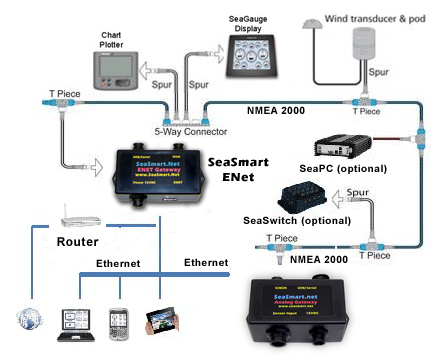 Chetco Digital SeaSmart.Net™ technology makes wireless gauge viewing, data access and data storage as easy as using a smart phone and browser. SeaSmart AGW is bundled with sample Web Pages for instant setup. Custom development tools are also included.
Technical Specifications
Model Number

SSAGW-01

SSAGW-02

SSAGW-03

SSAGW-04

Interface

NMEA 0183

NMEA 2000

Ethernet

Wi-Fi

Analog Inputs

<![if !supportLists]> · <![endif]> User configurable

<![if !supportLists]> · <![endif]> Resistive 50/300 ohm Pull-up

<![if !supportLists]> · <![endif]> Voltage 5V/10V/34V/32V

6/8

6/8

6/8

6/8

Pulse Inputs

<![if !supportLists]> · <![endif]> Module Selectable

<![if !supportLists]> · <![endif]> Inductive/Hall Effect/Generator

0/2

0/2

0/2

0/2

Sensor Lookup Resolution

256

256

256

256

Conversion Rate (all channels)

1 sec

1 sec

1 sec

1sec

Serial Port (RS232)/USB Port

<![if !supportLists]> · <![endif]> Supplied weather-resist USB - 2m

<![if !supportLists]> · <![endif]> Twist-Lock connector

<![if !supportLists]> · <![endif]> Supplied PC Instrumentation S/W

*

*

*

*

Aux Serial Port (RS232)

*

NMEA 2000 Port

<![if !supportLists]> · <![endif]> Supplied DeviceNet drop cable -1m

*

Ethernet Port

<![if !supportLists]> · <![endif]> Supplied weather-resist RJ45 patch cable

<![if !supportLists]> · <![endif]> Twist-lock connector

*

WiFi Port (802.11 b/g)

<![if !supportLists]> · <![endif]> Supplied 6" di-pole

<![if !supportLists]> · <![endif]> Optional remote Antenna

*

Embedded Web Server

<![if !supportLists]> · <![endif]> Included Web Pages for live view

*

*

Remote Access via Internet

*

*

Power Supply

9V-32V DC

9V-32V DC

9V-32V DC

9V-32V DC

Supply Current

600 mA

800 mA

800 mA

850 mA

Enclosure Material

Plastic

Plastic

Plastic

Plastic

Dimensions

4"x2"x2"

4"x2"x2"

4"x2"x2"

4"x2"x2"
Common NMEA 2000 PGNs supported
| | | | |
| --- | --- | --- | --- |
| PGN | TYPE | HTTP Header | Parameters |
| 126992 | System Time | $PCDIN,01F010 | 3 |
| 127250 | Vessel Heading | $PCDIN,01F112 | 3 |
| 127251 | Rate Of Turn | $PCDIN,01F113 | 2 |
| 127257 | Attitude | $PCDIN,01F119 | 3 |
| 127488 | Engine Parameter, Rapid | $PCDIN,01F200 | 3 |
| 127489 | Engine Parameter, Dynamic | $PCDIN,01F201 | 9 |
| 127493 | Transmission Parameters | $PCDIN,01F205 | 3 |
| 127501 | Binary Switch Status | $PCDIN,01F20D | 4 |
| 127502 | Switch Bank Control | $PCDIN,01F20E | 4 |
| 127505 | Fluid Level | $PCDIN,01F211 | 3 |
| 127508 | Battery Status | $PCDIN,01F214 | 3 |
| 130306 | Wind Data | $PCDIN,01FD02 | 2 |
| 130311 | Environmental Parameters | $PCDIN,01FD07 | 2 |
| 130312 | Temperature | $PCDIN,01FD08 | 2 |
| 130323 | Meteorological Station | $PCDIN,01FD13 | 7 |
| 129026 | GPS COG & SOG | $PCDIN,01F802 | 2 |
Operating Voltage:
9 to 28 Volts DC Voltage
Power Consumption:
<900mA Average Current Drain
Load Equivalence Number:
1 NMEA 2000® Spec. (1LEN = 50 mA)
Reverse Battery Protection:
Yes Indefinitely
Load Dump Protection:
Yes Energy Rated per SAE J1113
Size:
4" x 2" x 2" Including Flanges for Mounting Weigh 8 oz. (340 g)
NMEA 2000® Connector:
DeviceNet Micro-C via 24" cable drop (4 pin Conxall)
NMEA 2000® Isolation:
Opto-Isolated No Electrical Connection Across Bridge
Interface Standard:
RS232 Serial/USB 1.1
USB Connector:
8-pin Conxall to USB Type A -5' cable drop
USB Auxiliary Power:
+5 Volts < 200 mA
RS232 Connector:
8-pin Conxall to DB9 Connection to PC – 5' cable drop
Power Connector:
2-pin Conxall to 3' pigtail (12V/GND)

Ethernet Interface: 
10Base-T and 100Base-Tx

Ethernet Connector:
   RJ45 with LED indicators
Operating Temperature:
-25°C to 55°C
Storage Temperature:
-40°C to 70°C
Relative Humidity:
93%RH @40° per IEC60945-8.2
Download Analog Gateway Specifications (PDF)