SeaSmart.net and PushSmart™
SeaSmart.net adapters support both Client and Server Internet Protocols. This means that a growing number of third party applications now can integrate vessel NMEA 2000 data directly over available network connections.
Innovative applications running on devices such as iPads, Tablets, and SmartPhones can now monitor vessel data from anywhere on the world. Just connect to SeaSmart.net adapter on-board or directly over the Internet. View live and archived data by leveraging Cloud Servers and PushSmart technology.
PushSmart will continiousily store vessel data localy and then automaticaly sync with Cloud Servers when Internat connections are available providing 24/7 coverage. Access remotely using Cloud Services such a as Google Maps and others.
SeaSmart.Net™ innovative interface technology includes an embedded microcontroller module to directly support HTTP Protocol translation without additional equipment. SeaSmart.net firmware translates native NMEA 2000 protocol to compatible HTML pages which are automatically updated Live and feed to the target web server. CGI and AJAX protocols allow JavaScript Web Browsers to view the dynamic graphics with minimum network loading so that performance is maintained over Dial-Up and Cell based networks. The Open Protocol allows for license free viewing of vessel data equal to other helm station displays and is easily shared among other devices. This data can be logged and viewed on vessel based systems or pushed to internet based remote servers for access anywhere in the world.

SeaSmart.net™ and HelmSmart
SeaSmart.net adapters can store data locally on SD memory cards and also upload live to the HelmSmart.net Cloud Server using any available internet connection.
Once in the cloud, access is available 24/7 from any web browser. Data analysis includes charting over any time interval, map overlays, real-time gauges, network monitoring, alerts and alarms via email and SMS, instrument data boards, and data links to third party services like iOS apps, Telemetryapp, and Boatlogger.
SeaSmart Log files can be uploaded at any time using SeaSmart's Web Browser interface or even emailed directly to the HelmSmart service.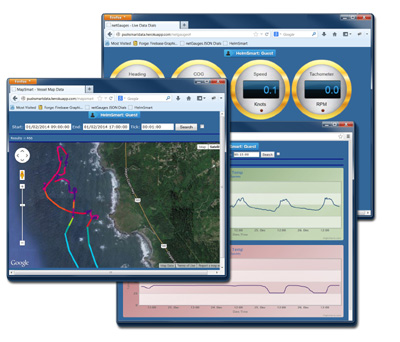 SeaSmart.net™ Web Server
SeaSmart.net adapters feature an embedded Web Server supporting Dynamic HTML, JavaScript, CGI, and AJAX protocols. The result is the ability to host streaming web sites which provide live updates from attached NMEA 2000 and NMEA 0183 networks. Real-time data is displayed on a collection of web pages featuring customizable graphics.
Web Content is stored in Flash Memory and is easily updated via HTP or FTP. A collection of Web Content is preloaed
Try it! Click on a screen
Engine Theme - Arrange from 1 to 16 instruments per page. Select desired parameter (PGN) for each gauge. Choose dial colors.
Weather Theme - All dials are individually customized. Choose bezels, needles, backgrounds, and digital readouts
Vessel Theme - Select live data from NMEA 2000 bus and assign to each gauge with specified ranges and alarms
Switches Theme - Provide indicator status (On/Off) or even control switches remotely on the vessel's NMEA 2000 bus.
Each Web Page can be individually customized to fit the application. Instrument themes and arrangements are all user controlled. Every gauge can be assigned to a selected PGN parameter and rendered live directly off the vessel network.
Since the Web Sever is built-in to every SeaSmart adapter - no internet connection is required to view live instruments on any Browser enable device including iPad/iPhones, iOS, Windows, Android, LINUX, and other operating systems.